A road map to scientific illustrations: 6 step graphic design process
As a scientist we love a good method — a step-by-step process we can follow. It is ordered and logical and familiar.
But what do you do when there is no method to follow? Like when someone says "be creative"… Cue FREAK OUT!!
Well, you have come to the right place! Let's talk about visual communication and the process of graphic design.
Here is your method to being creative and designing stunning scientific illustrations. 😉
Visual Communication
Here at Animate Your Science we are all about science communication, and advocate for scientists to tell a story. 📖
We have strategies to make complex scientific concepts easy to read, 🦠 and tips on how to give an elevator pitch, 🎤 we even go through 7 tips to boost your manuscript's impact. 🚀
But often researchers forget that visual communication is a crucial part of the story!
That graphic design is an important and often overlooked piece of the puzzle. We can use scientific illustrations to convey key messages and keep your target audience engaged.
After all, a picture is worth a thousand words. 😉
So, what is a Design Process?
A design process is a methodical approach which breaks down a large design project into manageable and logical steps.
Design might sound scary!
But graphic design actually involves a lot of critical thinking and problem-solving, much like science.
In reality, most graphic designers have a design process they follow, a set of logical steps to get a design to move from an idea... to a beautiful graphic!
Sound familiar, a bit like a scientific method or protocol.
Hello researchers! 👋 Now we know you are listening, after all this is our forte. 😉
Here we are going to uncover 6 key design steps for researchers. Want to learn how to bring your idea to life and create stunning scientific illustrations? Then read on.👇
Let's be methodical about creating!!
Step 1: The Idea
This step may seem obvious! However, it is arguably one of the most important steps. Without an idea, we have NOTHING!
Here we want to refine the concept details to keep you on track. We want to keep the end goal in mind, for instance the end goal of a scientific method might be to extract RNA. The end goal here is to produce an eye-catching scientific graphic that conveys your main message and targets your key demographic.
Don't rush this step, as it will set the tone for the entire project.
To iron out the details, use the following questions to guide you.
What are you creating? What is the scope of the design? Are you creating a single scientific icon or an entire poster? Or maybe a manuscript figure or a detailed infographic?

What is your key message? What is your main point? What is the graphic trying to convey to the reader? This could be a very specific or a very broad message. For instance, a methodology graphic would have a distinctly different key message than a summary figure.

Who is your target audience? Who is your graphic aimed at? Researchers, general public, stakeholders, children? Your target audience will affect the design style, degree of jargon and overall approach. For example, an infographic for young children will have a different level of detail to a figure for a manuscript.

What is the timeline for the project? Do you have any strict deadlines for this project? A conference deadline looming, a manuscript revision date, or a presentation at the next lab meeting? Having a clear idea of your timeline will help you plan your time effectively.
Now that we have the concept outlined, we move to a researcher's favourite part… RESEARCH! 🎉🎉
Step 2: Research
Now for some fun!! Let's research 🙌🏼
The point of the research stage is to gather inspiration, and sample graphics. Technically, nothing is original, everything man-made is inspired by something. So go get inspired!! 🤩
As the saying goes, "Steal like an artist". 🧑‍🎨
Not sure where to start? We have outlined below some ideas of what to look for:
Scientific Research This part you could do in your sleep. 😴 If the topic is unfamiliar, you may have to conduct some scientific research, to ensure you have a good understanding of the topic first. Most likely though you will be creating a graphic for your own research, which you are already an expert in, 😉 in which case you can skip this bit.

Examples of similar work Search for graphics, illustrations or figures or similar work. This will help you identify what you like and don't like and will aid in forming your vision for the final product.

Scientific Schematics Check out some scientific illustrations. The large variety of graphical representations will inform the level of detail and stylistic choice.

Audience-specific content Have a look at the types of graphics your audience is engaging with. This will help you decide on the type of illustration to best target your audience.

Graphical details This one is not its own dedicated search, but rather a combination with the above. When you are gathering your examples, take note of what colour schemes stand out, which styles you are drawn to, the typography you like, or if you prefer no text?
There is no wrong way to research. Save anything and everything that captures your eye. Once you have a range of sample images, arrange them and label them, so you can quickly and easily refer to them down the track.
In the design world, this step is known as "Mood boarding" and it inspires the visual direction of the graphic.
Moodboard Example
Step 3: The Style & Look
Now that you have created your Mood board you will probably already have a rough idea of the style and look you are going for, now it's time to really nail down these aspects.
Always remember to keep your concept at the forefront of your mind.
Style
There are a multitude of styles to choose from when you are designing a graphic; Abstract, Minimalist, Conceptual, Flat, Playful, Geometric, Organic, Photorealism the list goes on. Whilst these terms probably don't mean much to the average academic, the idea is to select a style that will engage your audience, whilst delivering your key message.
Once you have selected your style, ensure you stick with it and be consistent, or you will end up with a graphic that looks like a patchwork of styles.
Here are some different design style examples of a Bluebird, to help you understand the importance of choosing the right style.
I mean c'mon how cute is the cartoon bluebird 😍 perfect for a presentation for preschoolers.
Accuracy
When considering the style aesthetic of your design, you should also consider how detailed and accurate the final product should be. Striking the perfect balance between accuracy and aesthetics is a fine art!
This is a good example of how to balance the two together. 🤩
As always your concept outline will help guide this balance. For instance, a scientific graphic for children can teeter more towards aesthetics, as their attention span is shorter, and they won't comprehend the scientific details, in fact it may cause confusion and disengagement.
On the other hand, a graphic for experts in your field can slide towards accuracy to convey the details and get the key point across.
Colour scheme
When considering style and accuracy, you should also consider the colours used. For example, a blue bird coloured red wouldn't convey the same information, as if it were coloured blue.
We always recommend picking a consistent colour scheme for your designs. 🎨 By limiting the number of colours in an illustration to 3 or 5, it gives a professional, cohesive feeling. However, sometimes this is not always possible without losing accuracy.
Not familiar with colour schemes? Check out our detailed blog which covers this very topic.
Disclaimer: Some companies and institutes have branding guidelines that you may need to adhere to, which can include colour palettes, logos and stylistic outlines.
Typography
Typography is just a fancy way to say that the text is arranged in a legible and visually appealing way.
This can include the typeface, font colour, font size, spacing and arrangement. Scientific figures often have unnecessary text, at the expense of negative space and aesthetics.
Less is more.
Ask yourself, is it necessary? Can I phrase this more succinctly? We want to avoid cluttering the design with text.
With that in mind, we also recommend sticking to just two fonts, a title font and a body text font. You can use bold and italics to provide different variations for subtitles and emphasis if needed.


Copyright licensing
Alright, let's quickly touch on the boring stuff. 🙄
Now I mentioned in Step 2, to steal like an artist, but I didn't mean literally. Copyright licensing is an important aspect of design. You can use anything for inspiration, however there are only some images that you can reuse, modify or adapt.
Let's talk Creative Commons (CC) licenses, these are similar to Open Access licensing for papers! Depending on where you are using your creation's they may be subject to different copyright.
Check out the table below for all the deets!
Creative Commons licenses by Foter (CC-BY-SA)
Step 4: Mock Up
Now you finally get to start seeing your design come together. 👏🏼
Depending on the software you are using to design your graphic, there may be some limitations to the complexity of the design. So keep this in mind during the previous steps.
Our favourite design platforms are Canva and Adobe Illustrator.
If you want to design your own graphic from scratch with complete freedom, we recommend Adobe Illustrator. ✍🏼 Don't have access? Try a free trial now.
Not sure how to transition to free form illustrations? Check out our blogs on How to draw in Illustrator and How to draw your research. 🎉
If you are not quite up to the challenge, try Canva instead.
Canva has a range of free stock images, called "Elements" inbuilt into the software that you can just drag and drop into the workspace. You can even change the colour of the images, just not the style.
The purpose of this step is to "sketch" out your design, like a first pass of a research paper. The idea is to just put pen to paper and get something down, you can refine from there.




Step 5: Experiment
Okay, maybe THIS is a scientist's favourite part… 👩🏻‍🔬 EXPERIMENTING 🥼🧪🔬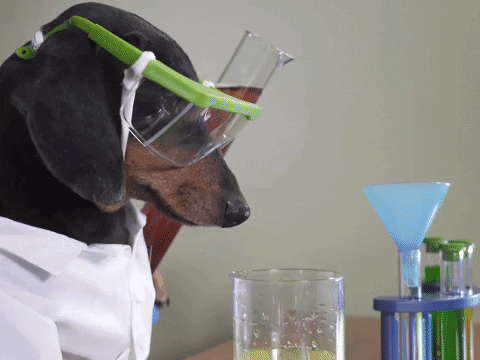 No safety glasses needed for this step though! 😉
Now that you have your mock-up, start to build up your design. 🎨 Add colour, add depth, a background, or shadowing. Experiment with different ways to visualise your data.📊 Want to get fancy? Turn your illustrations into 3D. 🤯 Have a play around with the layout. Why not try out the rule of thirds?
The rule of thirds is a composition strategy that places your subject in either the left or right third, leaving the other two thirds of the image more open.
You want your design to strike a balance of unique, memorable and engaging. Oh, and aesthetically pleasing, that's just a no-brainer. 🙃
So keep experimenting until it looks right to you!
Step 6: Feedback & Polish
Last but not least, make sure to look over your design with objective eyes as if you are the target audience. What do you see? What would you change? Is the message clear? Is the graphic appropriate for your audience?
It is always a good idea to get a second pair of eyes to look over your work too if you can. Sometimes they will catch things you have missed. 👀
And then tweak, polish and revel in your beautiful design. 😇
Summary
With just 6 easy steps you too can transform an idea into a beautiful scientific graphic.
The Idea - Outline your concept including design scope, key message, target audience and timeline.

Research - Use those scientific research skills, and find some inspo for your design.

The Style and Look - Decide on the style, colour scheme and look of your graphic. 🎨

Mock up - Create your first pass at the design! ✍🏼

Experiment - Play around with background, layout, and fonts.

Feedback and Polish - Incorporate any feedback and finish your design. 🙌🏼
Good luck!
Strapped for time?
You've got us at the AYS team.
We completely understand that designing your own scientific graphic can be a huge time commitment, especially for busy researchers. We've been there and totally sympathise.
So leave the hard work to us! We have professional graphic designers who can create the perfect scientific illustration for you. 😍
Contact us today to discuss how we can help you unleash your impact!
Until next time!
Authors
Dr Khatora Opperman
Dr Juan Miguel Balbin
Dr Tullio Rossi